Error on Immersun – Error 8 Load Short Circuit
Topic starter
24/06/2023 3:07 pm
We've had a persistent error on our Immersun today – I've restarted it several times, and the cabling has remained untouched, so not sure what's causing it. No such error in the manual. Any thoughts anyone?
Error 8
LOAD SHORT-CIRCUIT
Check: Heater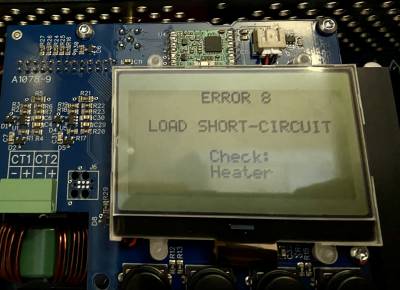 Could it be telling me the immersion heater has stopped working?
Having a short circuit would cause the output current to increase to a high level, hence the Immersun unit shuts down the output to protect both the unit and the external circuitry. The cause could be a short circuit within the wiring or the immersion heater, or possibly within the Immersun unit itself.
If you have a isolation switch between the Immersun unit and the immersion heater then switch this off and see if the fault clears. This would indicate that the fault is at the immersion heater or the wiring connected to it.
If the fault is still present then switch off the power supply to the Immersun unit and disconnect the output cabling. Switch the power back on to the Immersun unit and if the fault is cleared then the short circuit is on the wiring from the Immersun unit to the isolation switch, or the isolation switch itself.
If the fault is still present then the problem is within the Immersun unit.
This post was modified 5 months ago by
Mars
Topic starter
25/06/2023 8:47 am
@derek-m, I left the unit off overnight (disconnected from power).
I turned it on this morning with the immersion connector removed, so only the Immersun was starting up. Within 2 minutes the same is back. Looks like I'll have to send a message to Immersun.
Topic starter
05/08/2023 9:40 am
As an update to this, Immersun's customer support was excellent. I ran some diagnostics at our end and the error persisted. Immersun organised for the unit to be collected by DPD – a week later it was returned, and it's working perfectly. So the error was related to the Immersun unit, not the immersion heater.