Topic starter
04/09/2023 9:50 am
@heacol and I are very much in agreement on this issue.
As we migrate to a grid with more high-current inductive loads and switch-mode power supply units (SMPSUs) we are increasing losses on the Distributions Grid (132kV and below).
The main thing I disagree with @editor is the choice of graphic for this discussion and Brendon's main article! 😘 
Solar panels themselves are DC, and therefore have no harmonics.
If I could draw cartoons, I'd be creating an image of a solar inverter and a heat-pump singing in discord!
Everything we do on this journey towards Net Zero needs to be DNO-friendly.
Otherwise they will be forced to take ever more expensive measures to overcome the heat we create by introducing losses on the grid.
Ultimately we are all paying for that... especially through hefty rises in Daily Standing Charges.
The two main electrical interferences we throw at the grid are
Phase imbalance

Harmonics
Phase imbalances occur because most of our houses have only a single-phase supply from the 3-phase local substation.
The larger the current we take, the worse will be the level of imbalance.
The current taken on our 1-phase feed completes the circuit via the neutral wire.
But Neutrals were never intended to carry such currents.
Older (underground) 3-phase feed cables most often used a neutral conductor only 50% the size of the three phases.
The Neutral is not fused at the local substation.
When it passes too much current, it gets degraded by thermal stresses and will fail.
Although I can obtain data from a number of monitored sub-stations, I do not have access to the engineers' reports of what I'm seeing.
The annotations in the above diagram are my own interpretation/analysis of what's going on, rather than an authoritive statement of facts.
The time when our substation feeds and transformers are most at risk of damage due to phase-imbalance is in the early days of households installing EV chargers and Heat-pumps.
The first such Low Carbon Technology (LCT) on that substation will obviously invoke imbalance.
You would need to have three identical installations on each of the three-phases, and with the same on/off timings to restore balance.
But DNOs have only sparse information on which phase supplies which property.
In practice the phase connections are random.
Statistically we will experience increasingly large losses due to phase imbalance until around 10% of houses have LCT installations.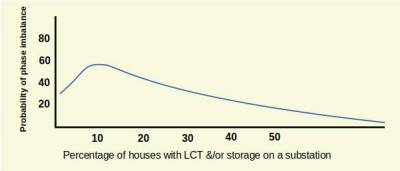 Turning to the subject of harmonics, these cause more serious issues for DNOs because the frequencies pass through the local substation and onto the entire network of transformers.

The usual way that network engineers assess the adverse effects of harmonics is to measure the voltage deviations (plus and minus).
These are then added together and logged at 10-minute intervals to produce a timeline like this: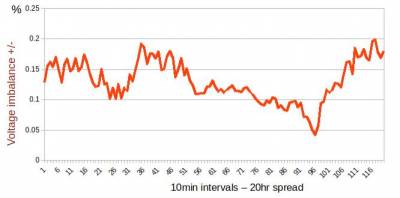 Since the harmonics are introduced by the heat-pump itself, you may think that there's little we can do about it.
As @heacol states in his article, the DNO's solution of 'network upgrades' can be eye-wateringly expensive (£134k!).
But we could instead operate our heat-pumps in an off-grid mode by using battery storage.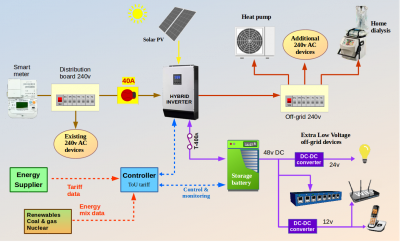 This wouldn't resolve the issue referred to by Brendon, where the heat-pump itself is outside of specification.
Whilst the battery is being recharged from the grid, the inverter temporarily supplies the 'off-grid' devices directly from the household mains incomer.
Such a connection would therefore still be illegal.
But for an in-spec heat-pump, faced with a choice of a £134,000 payment to my DNO, or the installation of an impressively large storage battery, the latter option becomes extremely viable.
What is even more attractive is the added resilience which is gained by running the heat-pump (and other household appliances) from a storage battery.
In the coming years we will see the introduction of Nodal-Pricing.
That provides cheaper electricity during times of abundant supply within your own locality.
The more we can store during times when renewable generation is plentiful, the less load we place on the grid during times of national peak-demand.
In turn, that reduces the likelihood of power-cuts.
And, even if there is an outage in the area, we probably won't notice because our storage battery has effectively de-coupled the house from such occurrences.
This post was modified 3 months ago 5 times by
Transparent
Save energy... recycle electrons!
As consumers we expect the electricity supply to our homes to be both reliable and of consistent quality. We are immediately aware when the supply is no longer reliable, since our lights go out, but I don't know of anyone who would actually check, or be aware, if the quality of the electrical supply was sub-standard.
According to the Electricity Supply Regulations a single phase supply should be at a nominal voltage of 240v +/- a specified percentage, at a frequency of 50 Hz +/- a specified percentage. The regulations do not appear to contain any specified limit on harmonics present.
From the point of view of generated harmonics there are two categories of equipment:-
Devices that take power from the mains supply and produce other frequencies within the equipment that may possibly leak back into the mains supply either by direct connection or radio transmission outside the equipment. As far as direct connection is concerned, there are regulations about the amount of back fed harmonics that are allowed from consumer equipment, which should contain suitable filters to prevent or at least limit such back fed harmonics. Obviously there is a possibility of back fed harmonics if the filtering should fail. Radio transmission harmonics should be prevented or at least be limited by suitable screening, but are more likely to effect communication equipment rather than the mains supply.
Devices that generate electrical power are a more likely source of harmonics within the electrical supply system, since they will probably be taking a DC supply and converting it to an AC output. This is where the quality of the electronic circuit design and operation will come into play.
The generators in power stations are machines, in which the rotor turns at approximately 3000 rpm (hence the 50 Hz frequency) and produce a sinusoidal waveform output. Inverters are electronic devices which take DC and produce an AC output, but may not produce a true sine wave. When selecting such equipment one should look at the specification, to check the Total Harmonic Distortion (THD), which is a measure of how close the waveform produced matches a true sine wave. Wherever possible equipment claiming to be a Truesine device should be selected.
Having seen the quality of industrial equipment coming from some of the far eastern countries, I always look very closely at the specification of any equipment coming from such sources. It is often a matter of 'never mind the quality, feel the width' for those old enough to remember.
This post was modified 3 months ago by
Mars
Topic starter
05/09/2023 9:05 am
The main thing I disagree with @editor is the choice of graphic for this discussion and Brendon's main article! 😘 
Solar panels themselves are DC, and therefore have no harmonics.
If I could draw cartoons, I'd be creating an image of a solar inverter and a heat-pump singing in discord!
Point well taken. Images for subjects like this can be tricky. Replaced with an AI interpreted generic image. No heat pump, but less ambiguous. 
Replaced with an AI interpreted generic image.
Great!  🤣 
I could do with learning about using AI to create the energy-related cartoons in my mind.
My only foray into AI thus far has been a 20second music clip... which was a disaster!
Save energy... recycle electrons!
Topic starter
05/09/2023 1:18 pm
@transparent, the image creators are equally hit or miss, and they take a lot of "practice". The problem is that things like heat pumps are quite obscure as visuals for the AI engines and they always generate these weird ground-standing boxes like these, but I'm sure they'll get better with time.