'Chinese Diesel Heater' to heat the home .....
Topic starter
05/09/2023 7:48 am
Last year i installed a chinese diesel heater to heat/pre heat my kitchen/conservatory area. it was much better than i expected, being able to control it via the remote made it simple to operate - i could even turn it on from bed when i woke up so the kitchen/conservatory was warm when we got up.
ok, for those who may be thinking exhaust fumes, dangers of catching fire etc .... the heater itself was sited outside and the hot air was fed into our house, under the kitchen units. Initially i had the air intake taking air from the outside, but soon realised i actually needed to take the air intake from INSIDE the house, so installed another ducting run, again under the kitchen units. i also had to use a step down transformer from 240v to 12v DC but as its all under the kitchen units its tucked nicely out of sight. 
ive installed the ducting in such a way that the heater can be removed from the patio area when not required and the ducting 'sealed' using end caps. 
i 'acquired' a cover for it all so its protected a bit from the elements - its not pretty but it works. it wouldn't take too much to make a permanent enclosure should i ever feel the need. i like the temp enclosure because i can remove it all when the heater isn't needed to boost the temperature up. the temp enclosure also helps in insulating the ducts, i kept the external ducting runs to a minimum so as to reduce heat loss.
Running cost was around a litre of fuel every other day, depending on length of time and of course temp settings, but as a rough guide we used around 5 litres every two or three days for 12 hours running.
Our only other source of heating in that area is an inverter (air con/heating) so the diesel heater took some of the 'strain'
I will definitely be using it again this coming winter, though i may look at installing a bigger fuel tank somehow, prob using a 20 litre paraffin container, so i will only need to fill it up once a week! i use metal jerry cans to get the diesel from the local garage, though i really should look at cheaper fuels such as heating oil or paraffin, but dont know if they would impact on the heater itself, i prob need to check out youtube to see if anyone has used alternative and cheaper fuels (so long as theyre easily obtainable for me!)
if i ever get round to tweaking the system, i will look at ways to recover the heat wasted through the exhaust, which really gets hot. i have seen a few methods on you tube which look simple enough, very 'Heath Robinson', but i like that approach !!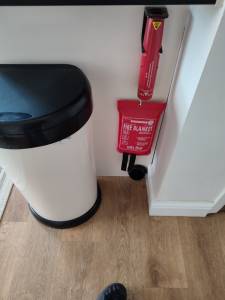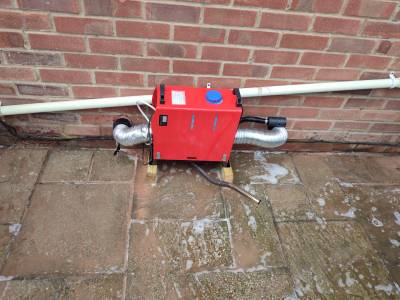 This topic was modified 3 months ago 2 times by
MisterB
Topic starter
01/12/2023 8:32 am
The heater has now been reinstalled (with a cover over the top of it all). Its started up without a problem, i was expecting a few teething issues, but so far ...... 
still need to look into a different fuel though, but it really does make a difference - probably going to split the heating pipe into two, using a y piece or t piece, so that i can run a heater outlet into an adjacent downstairs shower room/wc. would really love to sit down and design one for the 3d printer to produce an 'unequal tee' on tinkercad ...