Anyone want to share costs on batteries?
I have private messaged you with the details. There were no restrictions on the Growatt being imported (CE marked, so all that is OK until the start of next year) and as these are off-grid G99 does not apply.
I did also look at on-grid Deye inverters but they were not allowed to import them into the UK (perhaps even the EU) because Sunsynk are selling badged versions at not too great a markup.
5 x 150A Littelfuse JLLN and holders it came to £252 GBP including (2 to 3 day express) shipping
I got the import duty bill from DHL, so add another 20% onto that. However this does provide good short-circuit protection, from a more trusted brand than those on Aliexpress, so from an optics perspective this overcomes an objection to using the Seplos Mason 280Ah kit.
The (3 x 150A for the batteries and 2 x 150A for the inverters) class T fuses and fuse holders arrived, around 100 hours after ordering.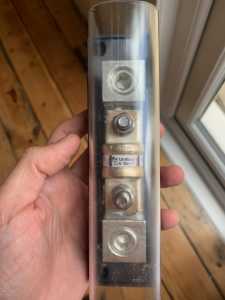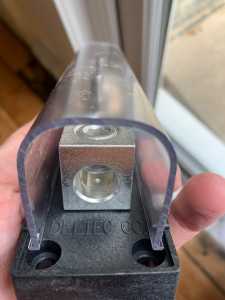 They look pretty industrial and feel heavy duty. I decided to go with the screw down sort, reducing the number of lugs/crimps required.
For me shunts.com just worked, and provides that additional level of protection for the Mason 280Ah kits. Be aware that the price paid online did not include VAT or the ~11 GBP DHL handling fee. Around 60 GBP each (including shipping VAT and fees) is not cheap, but probably easier than making your own holders!