As soon as we moved into The Filter House in Suffolk in September 2020, we decided to upgrade it to be as eco-friendly as possible. The house is part ex-Anglian Water pumping station, dating from the '50s, with conventional cavity walls, and part modern build, with walls constructed from insulated concrete form. The total footprint amounts to 450 square metres, with underfloor heating to both floors supplied by an oil-fired boiler controlled by a Honeywell Evohome system. The latter caused us major headaches at the outset as room thermostats hadn't been bound properly and some actuators were stuck.
Our first step was to put 18 Q Cell PV panels on one of the flat roofs, with a SolarEdge inverter and two 5.2 kW GivEnergy batteries, plus an EV charger and PV diverter for the immersion heater that was already installed in the hot water cylinder as a backup. The PV system has proved to be a huge success given the current energy crisis and escalating electricity prices.
We started looking for a heat pump installer in early 2021 and hoped to make use of the domestic Renewable Heat Initiative (RHI) to offset the cost. After some false starts, including a couple of installers who proposed doing virtual heat loss calculations on the back of an envelope, we selected Finn Geotherm, which is a well-regarded company in Attleborough, Norfolk.
Their comprehensive performance spreadsheet indicated a total heating and hot water output of 33,300 kWh per annum, which would be met by a heat pump output of 13.6 kWh, at a running cost of £3,350 (based on a tariff of 28p per kWh). This figure was approximately the same as our annual consumption of 4,000 litres of fuel oil at mid-2022 prices.
Finn Geotherm's initial proposal was for two, single phase, 9kW Panasonic Aquarea T-CAP heat pumps. Because the combined volume of the heat pumps exceeded 0.6 cubic metres, we submitted a planning application to the local council. This elicited the surprising requirement from Environmental Health that a sound baffle would have to be installed – despite the house being right next to the busy A1088 and more than 50m away from our only neighbour!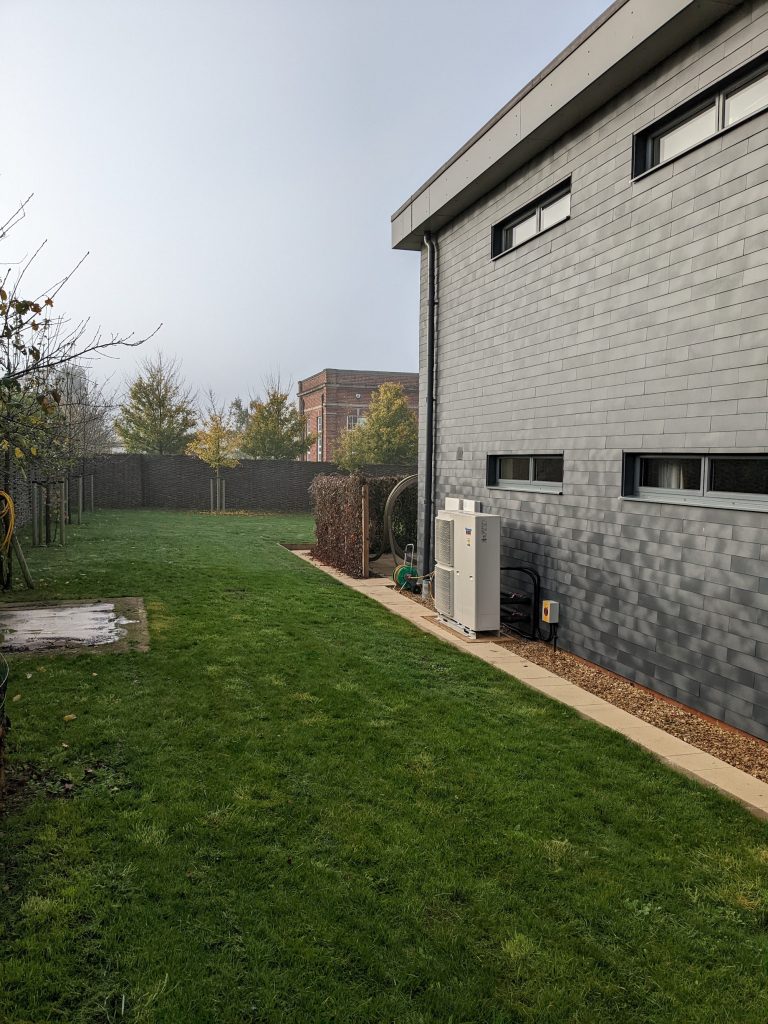 After considering maximum demand and diversity – in particular, we have two electric cars – it became apparent that a more appropriate plan would be to upgrade the electricity supply to 3 phase and then install a 3-phase heat pump.
Finn Geotherm's recommendation was for the just launched Panasonic Aquarea T-CAP WH-MXC16J9E8 heat pump, although we were warned that there were supply issues. The J generation heat pumps are said to be high performance and can cope with temperatures down to -20 degrees. As we were installing only a single heat pump, planning permission was no longer required – and, thankfully, no sound baffle.
A six month wait then ensued for UK Power Networks to upgrade the electricity supply; a delay solely caused by the paucity of 3-phase smart meters in the UK. UK Power Networks themselves were very helpful and responsive. We then had a further year long wait for an installation date for the heat pump; this delay being due to a backlog of heat pumps awaiting accreditation by MCS. Finn Geotherm was excellent at keeping us up-to-date and general handholding.
Finally, at the beginning of November 2022, the four-strong Finn Geotherm team arrived to install the heat pump over a four-day period. The oil boiler and 300-litre cylinder were removed, disposed of, and replaced by the Panasonic heat pump, a 500-litre Joule cylinder with two immersion heaters, and a 100-litre buffer tank for the underfloor heating.
One of the immersion heaters is used for weekly sterilisation to prevent Legionella growth and the other receives the diverted supply from the PV panels. The Honeywell heating control system seems to have been reintegrated seamlessly. Hot water is now controlled solely by the heat pump.
The hot water temperature is currently set at 50C and the underfloor heating supply is nominally at 45C. The heat pump runs constantly for maximum efficiency, and the heating turns off when the outside temperature is above 16C. A weather compensation curve is also applied to maximise efficiency. This determines the water temperature for heating depending on the outside temperature.
Just three weeks on, it's obviously too early to say much about the impact of the heat pump. But one thing that's clear is that the temperature in the house is more equable.
The Evohome system includes three manifolds supplying 17 zones, and because of the higher temperature of water from the oil boiler going to the underfloor heating, there were hotspots where pipes ran to manifolds. There was also excessive heat being generated in the plant room, which meant that adjacent areas were overheated. Now that the heat pump has been installed, there's a more level 21C in the hallway and living areas (19C in bedrooms), and the plant room temperature is just 22.5C.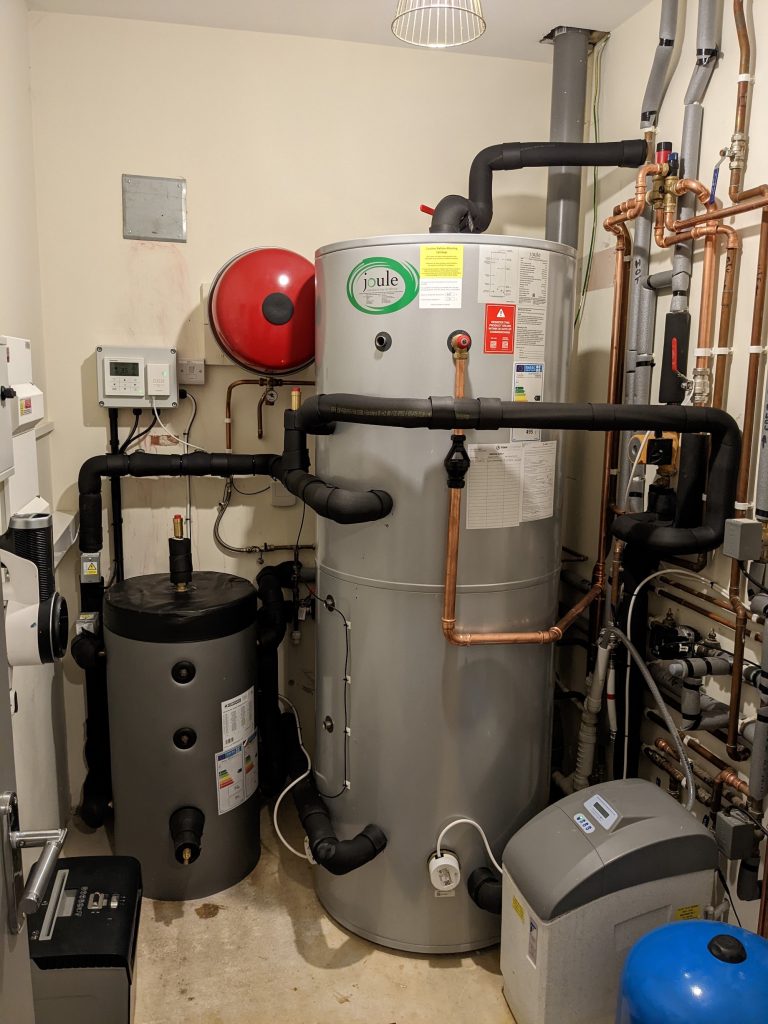 Before installing the heat pump, we were paying approximately 13p per kWh of electricity by utilising battery storage during the Octopus Go off-peak period of 00:30 to 04:30 (currently priced at 7.5p per kWh). In contrast, the standard price for electricity on the Octopus Go 2021 tariff is 30.8p per kWh.
Three weeks after installation, the cost has climbed to 22p per kWh, which demonstrates that a heat pump operating 24/7 eats into the savings from an early morning off-peak period. Also, the PV system is single phase, so any stored or self-generated electricity supplies just one phase of the heat pump.
Daily consumption by the heat pump during a mild November, with a COP of ≥5 achieved on all but two near freezing nights which sent the COP plunging down to below 3, has averaged at 27 kWh, which amounts to a seemingly reasonable £6 per day. Unfortunately, winter looms.
Still, we live in hope that the running cost will be less than the £3,350 estimated by Finn Geotherm. Thankfully, we were early investors in the Ripple Graig Fatha wind farm in south Wales, which is on target to offset our electricity bill by £1,000 in the first year of operation.
The total cost of the heat pump installation was £17,000, although £5,000 was paid by a grant from the UK Government's Boiler Upgrade Scheme. This replaces the Renewable Heat Initiative which ended in March 2022. The cost of upgrading the electricity supply to 3 phase was £5,500. We were fortunate in having a substation nearby and a short cable run to the house; some domestic properties have been charged £10,000 or more for the upgrade, according to The Telegraph.
We would strongly recommend that homes of the size of ours should have a 3-phase supply installed as standard. In an ideal world, we would also have a 3-phase PV system with more panels and a larger storage capacity, to supply the heat pump, but we would never recoup the investment in our lifetimes.
Overall, it's fantastic to have finally had the work completed, and we're delighted to see the back of the hideous oil tank, which is to be replaced shortly by a garden shed. We think we're relatively sanguine about the likely electricity usage, but the proof of the pudding is in the (h)eating, and we'll post an update in a year's time. We'll try to grin and bear the plunging COP; fleeces and winter woollies aren't exactly our style.