In February 2020 we installed a Tuin log cabin in our garden to act as an office, gym and hobby area. By the time we had protected it with three coats of stain inside and out, installed lighting, power and internet, the warmer weather was upon us and no thought of needing heating had crossed our minds.
By the time November came around, the cabin was getting pretty cold and we were using electric heaters. The cabin is 8x6m with a concrete base and insulation between the base and the wooden floor. Insulation was added on top of the wooden roof and shingles were then nailed in place on top of that. The logs are 70mm thick and windows and doors are double glazed.
We decided we needed to heat the cabin and calculated it required about 7kW of heat per hour to do so. We wanted the romance of a log burning stove, but realistically with the cabin unoccupied overnight and the need to clean it out and relight it, we soon realised it wasn't practical.
Laying gas pipe from the main house would require digging a 30m trench across the lawn and across a new patio, and LPG bottles would require regular replacing.
We then read an article about air source heat pump units and realised this was the solution for us. We researched suitable units and asked a couple of companies to quote.
Along with installing electrics to a new isolating switch, the quotes to procure and install ranged from £1,800 to £2,500. We wanted a unit that had Wi-Fi and that was Alexa compatible, so anyone in the family (six of us) could tell Alexa to switch on the heating 30 minutes before they wanted it and walk into a warm cabin.
Panasonic had just released a new range of compact inverter wall mounted units and we selected the CS-TZ71WKEW/CU-TZ71WKE 7.1kW 24,000btu R32 heat pump system.
The internal unit is mounted at two metres high and piped to the external unit that is sited on anti-vibration mounts on a concrete base. The internal unit is whisper quiet in operation and the external unit is also quiet.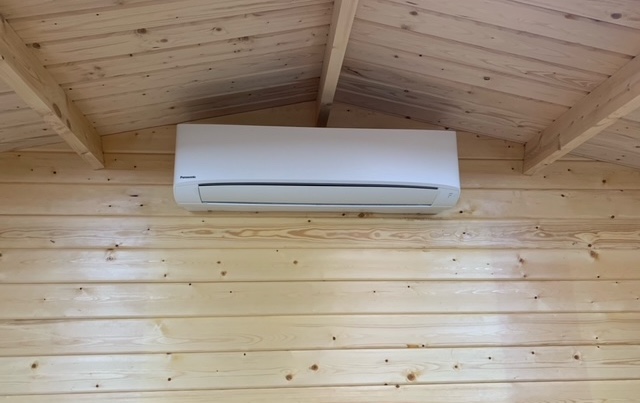 The garden is large and so are our neighbour's gardens, so we haven't had any complaints and don't expect any. The units took about four hours to install with a 2-person crew.
The setup of the system and Wi-Fi is fairly easy, but the instruction booklet isn't that good. We don't have any meters on the supply to the cabin, so can't offer any actual running costs, though the Panasonic app estimates that with the temperature set to a toasty 23C and the outside temperature around -4 to 0C at the moment, we are consuming between 10-15kWh per day.
Overall, we are very pleased and the cabin usage is constant. If possible, we would have gone for a single external compressor and two 3.5kW units at opposite ends.
For aesthetic purposes we went for the larger single unit and put up with the slight temperature gradient across the cabin. It is warmer than the house.
We also look to it as a refuge in the summer when we get those occasional days over 25C and require air conditioning. We found that the unit defrosts 2-3 times per day and switches off for about 15 minutes before restarting. This can be before it even gets to temperature and this surprised us.
I guess if you were running this constantly the unit wouldn't be looking to raise the temperature so much and this wouldn't happen. There is quite a lot of water from the defrosts so make sure it can drain away safely.
We have set the unit to heat mode as recommended by the installer to avoid the unit switching into cooling mode if the cabin gets too hot. We are contemplating installing another 5kW unit in our conservatory with a low-level internal unit, so you can see we recommend this unit.
We can't comment on reliability as it has only been installed for a short period of time, but that was a reason to choose a reputed brand such as Panasonic.