We bought our house in Suffolk in 2007, which started life as a chicken farm, so the main attraction for me was a shed bigger than the house to keep my collection of old cars in. My long suffering wife, Anne, agreed to this as long as we extended the bungalow and so that it was better than our previous '80s detached estate house. We managed to get permission to triple the house size of this chalet bungalow, and the picture above shows how it now looks in 2021.
Work has not been fully completed, as we have still got one more room to do, but it's almost finished. I got builders in to build the shell and roof and I did everything else myself apart from the floor screed and plastering.
At the same time as getting planning permission, I needed to get building regs approval. I remember going through the heat loss calculations with the architect's assistant, and I wanted an oil boiler as we weren't impressed with the storage heaters in the bungalow, but the numbers just didn't add up. So we had to either loose the large gable window or use an eco-friendly heat pump to keep it. So I selected the heat pump option and expected to install one for building regs sign off and then replace it with oil.
We kept the bungalow slab and walls so only the new half of the house has UFH pipes and an insulated floor.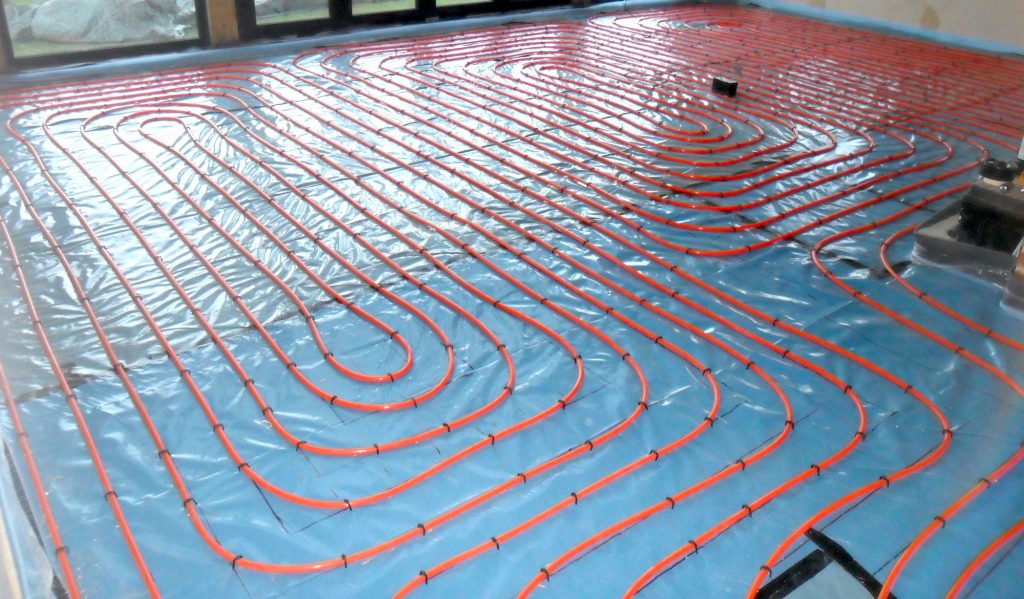 The interior walls are lined with 50 or 100mm Celotex and the roof with 200mm Celotex between the joists and 50mm inside. I also got through multiple boxes of expanding foam, filling all gaps I could find.
Initially, I added more storage heaters but we were never warm and we relied on the wood burner in the large lounge to keep it warm. In 2016, I connected a 9kW electric boiler to the underfloor heating that heated the lounge, but I didn't think we could afford to run it all winter, so in 2017 I looked into air source heat pumps (ASHP). I got some quotes for ASHPs under the Renewable Heat Incentive (RHI), but I was reluctant to spend £10,000- £12,000 as I now thought we really needed a pellet boiler.
As an experiment, I bought a 12kW air source heat pump off eBay, and if memory serves me correctly it cost us around £2,000. Google Model RS-82P5A/T. This was after I read the installation instructions, and it all looked straightforward and an interesting challenge.
This turned out to be the case (no surprises) and replacing the electric boiler didn't present too many issues. There is a control panel inside that is connected to a temperature monitor, and it starts by showing around 31/32C and gradually gets to 37/38C.
In use, the house was much warmer that winter apart from the very cold sub-zero days. I knew the ASHP had an electric assist control, so in 2017 I reconnected the 9kW electric boiler. I must say that the heat pump rarely uses this, and our house is now warm enough.
I am not sure whether this is what a proper team would build, but it has worked perfectly for three winters now. I must caveat this by saying that I was comfortable undertaking and doing this myself as an experiment, but if you do not have the necessary skills or knowledge, I would definitely recommend that you get an air source heat pump installed and commissioned professionally.
I am going to keep working on my system, and will be adding a filter given the issues I read about other people having. So how has it performed? I like to keep an eye on our consumption and bills, so I put the meter reading into a spreadsheet once or twice or a month. Here are our day/night readings in a graph. Note how the day usage goes up in 2017 and the night use goes down.

In 2013 we used 2,716kWh during the day and 17,686kWh in the night, totalling 20,412kWh.
In 2020, we used 6,020kWh during the day and 10,154kWh at nighttime, coming in at 16,174 kWh. At 16p/kWh during the day and 8p/kWh at night, this meant we paid £1,864.
So the house is now much larger and cheaper to run, and I can definitely recommend an air source heat pump for a properly insulated rural house.
Issues
Setting Up: It was quite straightforward to set up, but with long-term use I realised we just had to leave it on 24 hours a day over winter. It takes so long to warm the slab that there is no point connecting it to a timer.
Peak Usage: The original part of the house has had the walls removed to create a large kitchen/diner and this is heated by a 30 amp storage Aga. When this is charging on the off-peak electricity tariff, the electric assist boiler and immersion heaters are on, and my OWL USB monitor has recorded 80 amp/18kWh usage. The main fuse is 100 amps, so I cannot add other significant demand, such as an electric car.
I'm hoping that in the future smart meters and their tariffs evolve to a point where they are able to selectively switch high demand equipment.